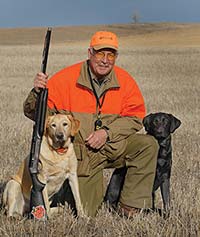 Tom with hunting companions Abby & Sophie.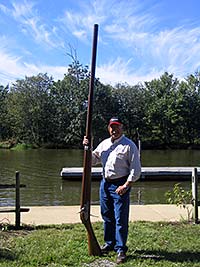 Tom with Punt Gun.
Tom Knapp is recognized as the greatest exhibition shooter of modern times. With TV appearances and more than 100 live shows a year in the United States and Europe, Tom has thrilled countless shooters with his seemingly impossible feats with shotguns. Of course, the shotguns that Tom shoot are CZ-USA.
Tom travels the World for CZ-USA and the Federal Premium Ammunition Company. He has performed throughout Europe and the Mid-East covering as many as 14 Countries in 4 months! Tom has been performing for the public since 1987 and has entertained audiences as large as 8000 spectators at a single performance. He has appeared on numerous National and local TV networks over the years and is currently appearing on two major National networks. Tom holds three distinctive World Records in 'Freestyle Target Shooting' or 'Exhibition Shooting' which made history in the shooting industry!
Check out Tom's Sponsors and his favorite links from the Sponsors page.