History Channel's Sharp Shooters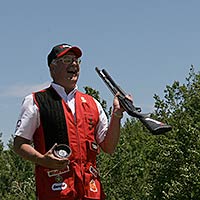 If you watched Sharpshooters on The History Channel, you saw Tom perform several absolutely unbelievable shooting feats that were invented and performed by history's legendary shooters. If you didn't catch the show, you owe it to yourself to take a look.
You'll see Tom "reenact" an Old West classic that matched Buffalo Bill Cody and the infamous shooter (and outlaw) Ben Thompson to see who could shoot coins tossed in the air.
If you think that level of marksmanship is a thing of the past, think again. Tom successfully performs this great sharpshooting feat and then goes one better. He tosses an aspirin in the air and hits it- with his .22 rifle!
And that's just the beginning.
Later in the show, in homage to his hero Herb "The Showman Shooter" Parsons, Tom hits 8 hand-thrown clay targets with his pump action shogun. He also performs the infamous "Kaiser Wilhelm" shot that was originated by the legendary Annie Oakley.
And that's not all. You won't believe how Tom ends the show-
Wait. We don't want to spoil a great finish!
You can check out all the exciting action right here.
This is one shootin' show you don't want to miss!