Tom's Old Benelli
Tom Knapp finally retired his old Benelli M1 Super 90 in 2005 when he donated it to the Buffalo Bill Historic Center in Cody, Wyoming, where it will be put on permanent display next to the guns of other great exhibition shooters like Herb Parsons and Annie Oakley.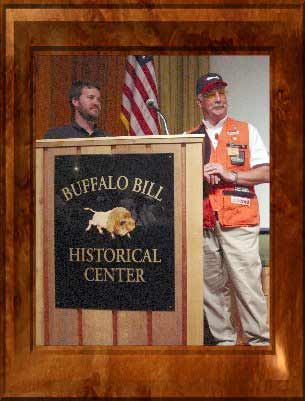 Tom's old Benelli wasn't worn out, in fact it had never let Tom down, but it was after Tom sent his faithful Super 90 to the museum that he sat down and figured out how many rounds the gun had fired. With over 140 live shows per year, the total number of rounds put through the Benelli was over half a million. Well, it's a good thing Tom retired that gun, because at that pace he would have worn it out... in another hundred years or so.
Tom Knapp has been offered a once-in-a-lifetime, Dream-Come-True by the high class and elegant Buffalo Bill Historical Center in Cody, Wyoming! Chief Curator, David Kennedy of the Firearms Museum at the BBHC asked Tom if he'd be interested in having a display in the Exhibition Shooters area of the Firearms Museum. Knapp said "let me think about it for a second---OK, I'll Do It"! His reply came nearly before that very second had passed.
Not only has Knapp donated his three record setting Benelli shotguns, but he threw in the gun that started the whole shootin' match back in 1959! His wood-stocked No. 25 Daisy BB gun. The vintage No. 25 was given to Knapp on his 9th Christmas (1959). Ironically, that was the year that the Late, Great, Herb Parsons from Summerville, Tennessee had passed away. Herb had left some mighty big footprints and was honored by the buzzing media of the day. Tom Knapp marveled at the legacy and carried a dream of using his passion for shooting and hunting as a livelihood. Knapp carried that very dream for more than a half of a lifetime before he made it come true. After all, by the late 80's, anyone in the shooting industry that knew what an exhibition shooter was, or how to use them was either retired or dead!
Annie Oakley. Ad Topperwein. Herb Parsons (to name a few), And Now, Tom Knapp, (dubbed by the BBHC), "The Greatest Exhibition Shooter Of Our Day", "The Shooting Star" has been nestled amongst the colorful display with the best of the best at the Buffalo Bill Historical Center.
Make your vacation complete and stop by Cody, WY to see the amazing paraphernalia and read the astounding stories of the Great shooters and Entertainers of the past and present that grace the Exhibition Shooting Hall of Fame on the lower level of the BBHC. Visit the web site of the BBHC at www.bbhc.org.